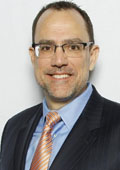 Philip Macres has more than 20 years of experience in the telecommunications industry, with over 18 years practicing communications law. Philip counsels companies on how they can increase profitability, reduce risk, and further their corporate objectives through effective and economical regulatory, litigation, transactional, and business strategies.
Philip primarily advises and represents competitive providers of wireline and wireless telecommunications and information services on regulatory policy, compliance, litigation, and dispute resolution matters before the FCC, state public service commissions, and federal courts. He has extensive experience litigating access charge disputes and has helped clients achieve favorable settlements. Philip also has in-depth experience negotiating and arbitrating interconnection agreements, in addition to negotiating many commercial contracts with incumbent carriers.
Philip advises companies on a wide range of business and legal communications issues relating to intercarrier compensation (reciprocal compensation and access charges), interconnection, TDM-to-IP transition, special access, broadband, copper loop retirement, Unbundled Network Elements (UNEs), commercial and tariffed arrangements, resale, universal service, forbearance, pole attachments, collocation, Section 271 of the Telecom Act, disability rights [including Internet Protocol Captioned Telephone Service (IP CTS)], and mergers. He also counsels on privacy, Telephone Consumer Protection Act (TCPA), slamming and cramming, Customer Proprietary Network Information (CPNI), and winback/retention marketing issues, and has substantive knowledge of cybersecurity, Internet/net neutrality, and competition policy concerns.
Prior to joining Klein Law Group, Philip was with Bingham McCutchen n/k/a Morgan, Lewis & Bockius (and predecessor Swidler Berlin) for over 14 years, where he represented competitive providers of wireline and wireless telecommunications and information services. Before working at Bingham, Philip was with Kraskin, Lesse & Cosson, where he counseled wireless providers and small competitive and incumbent Local Exchange Carriers (LECs). Prior to becoming an attorney, Philip worked for more than five years at Sprint's former incumbent LEC in Florida, where he held various positions in the regulatory and marketing departments.
Philip currently serves as a co-chair of the Federal Communications Bar Association's (FCBA) Wireline Committee.
Philip received his Juris Doctor degree, cum laude, from Stetson University College of Law, and a Bachelor of Science in Business Administration degree with a major in finance, magna cum laude, from the University of Florida. He is admitted to practice in the District of Columbia and Florida. In addition, he is admitted to practice before the U.S. Court of Appeals for the District of Columbia Circuit and the Fifth Circuit along with U.S. District Courts for Colorado, the Central District of Illinois, the Middle District of Florida, and the Western District of Michigan.
Contact Philip at pmacres@kleinlawpllc.com or (202) 289-6956.
---
Public Moderating and Speaking Events:
• Intercarrier Compensation Reforms on the Horizon, Panel I, Eliminating Access Arbitrage–What's at Stake and What Should the FCC Do?, FCBA Wireline Committee, Washington, DC (Dec. 18, 2018)
• Hot Topics in Telecom, Midwest Association of Competitive Communications sponsored luncheon at NARUC Conference, Scottsdale, AZ (July 15, 2018)
• The Call Completion Odyssey: The FCC's Next Steps in Addressing Rural Call Completion Issues and Implementing the Improving Rural Call Quality and Reliability Act of 2017, National Counsel of State Telecom Association Executives, New Orleans (May 2, 2018)
• The FCC's Business Data Services Order: What Does It Mean and What's Next?, Panel I, FCC Overview of the BDS Order and Its Implementation, FCBA Wireline Committee, Washington, DC (May 31, 2017)
• IP Interconnection and Peering: Legal and Practical Issues, Panel II, Policy and Legal Roundtable on IP Interconnection and Peering, FCBA Wireline Committee, Washington, DC (Feb. 27, 2016)
• Five Years after the Broadband Plan—Where Do Things Stand on USF and Intercarrier Compensation Reform?, Panel I, 2015 Overview of Key Open Issues Associated with the CAF and Intercarrier Compensation, FCBA Wireline Committee, Washington, DC (May 20, 2015)
• The FCC's Special Access Data Collection, FCBA Wireline Committee, Washington, DC (Nov. 14, 2014)
• Rural Broadband: Extending the Reach to Meet Demand, COMPTEL Plus Business Expo, Dallas, TX (Oct. 7, 2014)
• Net Neutrality Redux: What Should the FCC Do?, Panel II, Key Industry Viewpoints, FCBA Wireline Committee, Washington, DC (May 29, 2014)
• The FCC's Rural Broadband Experiments and Expressions of Interest Due March 7, 2014, FCBA Wireline Committee, Washington, DC (Feb. 27, 2014)
• A Progress Report on USF Reform, Panel I, An Overview of Key Open Issues Associated with the CAF, FCBA Wireline Committee, Washington, DC (Nov. 14, 2013)
• FCC Wireline Competition Bureau Update – A discussion with the Bureau Chief, FCBA Wireline Committee, Washington, DC (Sep. 13, 2013)
• Regulating Pole Attachments in a Broadband World: Deployment, Pricing and Safety Issues, Panel II, Safety Issues: Up a Pole Without a Ladder, FCBA Wireline Committee, Washington, DC (Apr. 16, 2008)
• Negotiating and Arbitrating Interconnection Agreements from a CLEC Perspective, National Telecommunications Cooperative Association ("NTCA") Legal Seminar, Scottsdale, AZ (Nov. 12, 2007)